WILDLIFE ARTIST CHRIS HOY
The luckiest people on earth are those who can make a living by doing what they love. Such a person is Chris Hoy, wildlife
artist. Chris has overcome great odds to pursue his passion for wildlife painting. The night before Halloween in 1995, Chris
was standing on a chair to hang a piece of art when he slipped and crashed through a glass table, slitting his right wrist to
the bone. He lost half of his blood in 20 minutes and almost died. Quick work by doctors saved his life and his hand. Just
happy to be alive, he barely paid attention when the doctors said that he would probably never paint again. Chris
persevered through six months of intense therapy and amazed his doctors by not only recovering his ability to paint, but by
improving upon it. Today, his paintings demonstrate an even greater appreciation of the natural world because of this
experience and the opportunity for a second chance.
A California native, Chris was struck by the magnificience of his environment at an early age and it became the first inspiration for his work. He loves animals; that love is translated into an accurate and passionate portrayal of each unique individual, be it a tiger, elephant or beloved pet. Chris' works are noted for giving the viewer the distinct perspective of being with wildlife in their natural surroundings. He understands that it is the details that make a subject special. He seizes the moment on canvas with all its nuances, including the unique personality and expression of each animal. Chris lives the moments that he captures in his paintings. His enthusiasm and joy for living fill every inch of each canvas. Technical marvels that they are, each painting has a spirit that transports the viewer to the place and time that the image was drawn.
Chris believes that in order to accurately portray wildlife, he needs to observe the animals up close, preferably in their natural habitats. He has developed a working relationship with many zoos and animal sanctuaries and is a frequent visitor.
Chris is allowed to work one on one with the animals and their trainers. These relationships have provided him with such awesome experiences as holding tigers, and lion cubs, and spending afternoons playing with, and bathing, African elephants. These up-close experiences have given Chris insight into the temperaments and moods of a variety of animals.
But first-hand experiences in the wild are integral to producing realistic representations of the animals and their environments. Thus, a passion for travel has become a part of Chris' career as an artist. His journeys have taken him to all seven continents in search of inspiration. Tropical birds and mammals of the deep rain forest were a bonus on a trip to New Guinea. Here, in one of the globe's last primitive places, Chris was also able to observe over 200 native tribes gathered for the Sing Sing - an event which happens on a grand scale, only every four years.

Chris has visited Kenya and Tanzania a number of times. Here, he focuses on the plains of the Serengeti/Masai Mara to search for, and observe, the
"Big Five"
- elephants, rhinos, lions, leopards, and cape buffalo. Chris even made an attempt to climb the 19,340 foot tall Mount Kilimanjaro. The night sounds haunt the plains, and camping in the bush brought the artist even closer to his subjects.
Chris' visits to Asia were a special blend of experiences. People watching and sightseeing in the cities were mixed with elephant rides through the hardwood forests to sighting leopards, tigers, birds and rhinos. "It is the first time I ever saw a spider the size of my hand", notes the artist. Asia also brought Chris in touch with the Himalays where he climbed to the first base camp at Mount Everest, a height of
over 22,000 feet.
The overwhelming views of the high mountains were inspirational. Just recently, Chris returned to China where he was given the honor and "DREAM COME TRUE" of holding a baby Panda. Chris will always remember this once in a lifetime experience.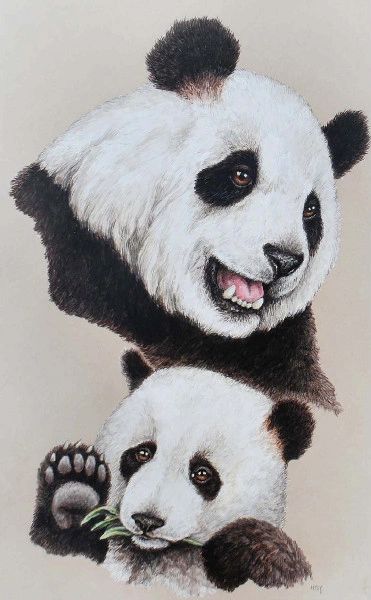 Observing Humpback whales in Alaska elicited a desire to get a closer look, so Chris traveled to the Dominican Republican to dive with them. There is nothing quite as humbling as being in the water with one of these gentle giants, "We saw several mothers with calves. The calves are about 13 feet long and weigh a little over two tons at birth and the mother is up to 48 feet long and about one ton per foot. That's huge when viewed from the surface, but when you are in the water with them, eye to eye, it is overwhelming."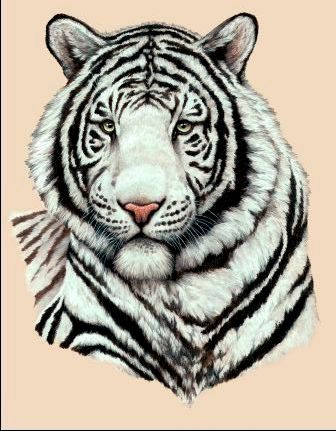 The Amazon Basin and the Galapagos Islands of Ecuador provided insights into some very diverse and special animals. Seals, penguins, albatross, red and blue footed boobies were the inhabitants of the 14 distintive Galapagos Islands. In the Amazon Basin, where more than 1,800 bird species make their home, Chris took in all the sights, sounds and natural wonders of the jungle. He visited isolated villages, sighted pink dolphins, monkeys and piranha by day and Black Caimans (large crocodile), sloths, and other amazing animals at night.

The Australian Outback and New Zealand hold their own share of mystery. A civilization arguably 50,000 years old, the giant monoliths of Uluru (Ayer's Rock) and Kata Tjuta (the Olgas), and some of the most unusual creatures on earth. Duckbilled platypus, emus, kagaroos and koalas were so endearing that they made each day of sketching a day of laughter.

The Antarctic was the topper for an impressive travel resume. There Chris experienced nature in its most isolated and inspiring forms. White, blue, gray and brown are the primary colors of the Antarctic - anything else stands out. The red beak on a seabird, the yellow-orange hewed feathers crowning a Macaroni Penguin, the green lichens on a rock, all strike you with unusual brightness - a breath of life in a desolate background of ice cliffs. There are no words that can describe the majestic vastness of this region or the wonder of summer when the sky glows with light 22 hours per day and the animals, seemingly, against the odds, thrive.
Chris's personal approach to wildlife painting has received much acclaim. He has had the distinction of being honored by former President Richard M. Nixon as the winner of a national art contest. Chris has been fortunate to have sold over half a million of his art works, and show cased on the Direct Shopping Network. He has been chosen as a featured artist by Yosemite National Park and was commissioned to create three original designs for Yosemite's exclusive park T-shirts; only one artist per year is selected for this honor.
Chris has been commissioned to create designs for the eight foot tall Easter eggs that are part of the Ritz Carlton's annual holiday festivities, in both their Laguna Niguel and Marina del Rey hotel sites. Chris' works have been shown for over 19 years at the Laguna Festival of the Arts. His drawings and paintings have been a feature in the San Bernardino Art Museum, the San Diego Wild Animal Park Festival, as well as in corporate and private collections throughout the world.
Chris had the opportunity of a lifetime to personally meet with Jane Goodall.
Her work with Primates and other wildlife has been an inspiration.
Chris Hoy's FIRST ART SHOW at the San Diego Wild Animal Park(1978), and Chris still enjoying his art
with his animal friends at the Laguna Beach Festival of the Arts (2002).

See more of Chris' work at