The Palm Springs Walk of Stars
Honors
the 332nd STAR ON
THE PALM SPRINGS WALK OF STARS
DAN WITH CAROL CHANNING
Entertainer,
beloved caretaker of Cheeta the Chimp and Coachella Valley resident Dan Westfall,
will be honored with the 332nd Golden Palm
S
tar on the Palm Springs Walk of Stars. T
h
e star will be unveiled at 100
South
Palm Canyon Drive on Saturday October 9, 2010 at 4:00 p.m. Robert Alexander
,
President of the Palm Springs Walk of Stars, will preside over the event
.
The public and media are invited to attend. Several celebrities have been invited and are expected to attend. A time capsule will be placed under the star.
Dan Westfall
began working in the entertainment industry in 1964 and, through 1969, worked at ABC Television Studios in Hollywood, California
.
Dan was a page on the Joey Bishop Show, The Lawrence Welk Show, The Hollywood Palace, The Dating Game, The Newlywed Game, General Hospital, and the Academy Awards - just to name a few
.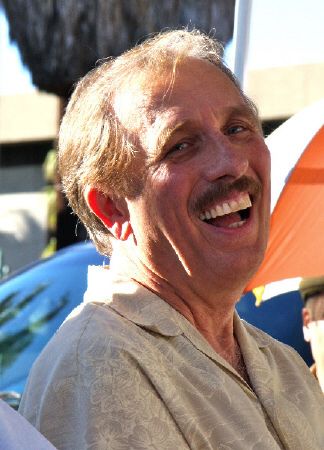 In 1975, Dan started working with the Marquis Chimps, an act created by his uncle,performing in nightclubs, circuses, and theaters. Dan moved to Palm Springs in 1989 and continued to perform with the chimps
.
Carol Channing
worked with Dan's olive baboon, Maxine, and rhesus monkey
,
Sandy
, in Circus of the Stars
.
DAN WITH HIS BEST PAL, CHEETA
In 1991, Dan began performing with the Palm Springs Follies as their opening act with the chimps
.
Overall, Dan performed with the Follies for 11 years adding singing, dancing, and comedy to his repertoire with the show
.
Photo courtesy of the CHEETA Primate Sanctuary
In 1991, Dan "adopted" Cheeta from his uncle and, in 2004, created the non-profit

Cheeta Primate

Sanctuary.

As President and
caretaker, Dan has done many interviews for television, radio, magazines and newspapers, both nationally and internationally.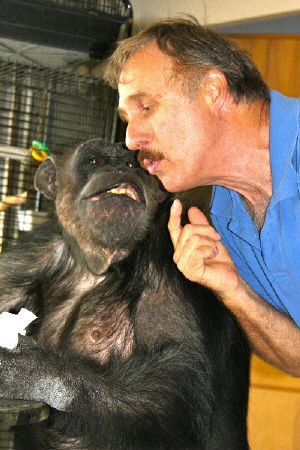 Over the years, many countries have shown great interest in Cheeta and the Sanctuary. They have upcoming projects with independent film crews and have enjoyed working with many American and foreign crews in the past. Dan is currently working on a documentary with PBS and has been filmed with Dr. Jane Goodall for an upcoming television broadcast.
Photo courtesy of the CHEETA Primate Sanctuary
The Cheeta Sanctuary donated two of Cheeta's paintings to The Goodall Institute which brought in $20,000.00 for the wild chimps ofGombi in Tanzania. They have also donated paintings to fundraisers for The American Cancer Society, The American Heart Association, Tippi Hedren's
Shambala Preserve
and other local and national charities.