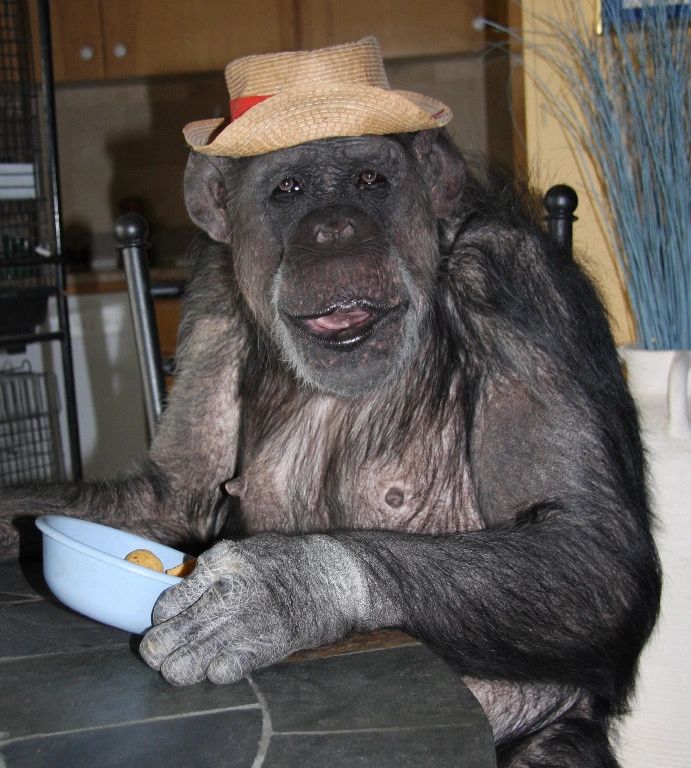 Cheeta's story is unique and touching. Years ago, Dan Westfall's uncle, Tony Gentry, was in the entertainment industry and worked as an animal trainer. Fortunately, Uncle Tony was a kind man and treated his animals well. When he became terminally ill in the late 1980s, he knew Cheeta, his best friend, would outlive him. He was terrified that Cheeta would be sent to a laboratory or run down zoo or circus. Believing Cheeta would face a terrible future, Tony ordered Cheeta to be euthanized upon his death.

Dan Westfall pleaded with his uncle to let him take Cheeta. He promised Uncle Tony he would give Cheeta a long & happy life. Tony repeatedly said "no!" It took several years to convince him to turn Cheeta over to Dan. Finally, with Tony confined to a wheelchair, he said his tearful goodbyes to Cheeta. Dan promised his uncle he would care for the ape, and to this day, that's what Dan does. They share a relationship & special bond that is like no other. Dan deserves the title of HERO for the care & devotion he gives to this Cheeta.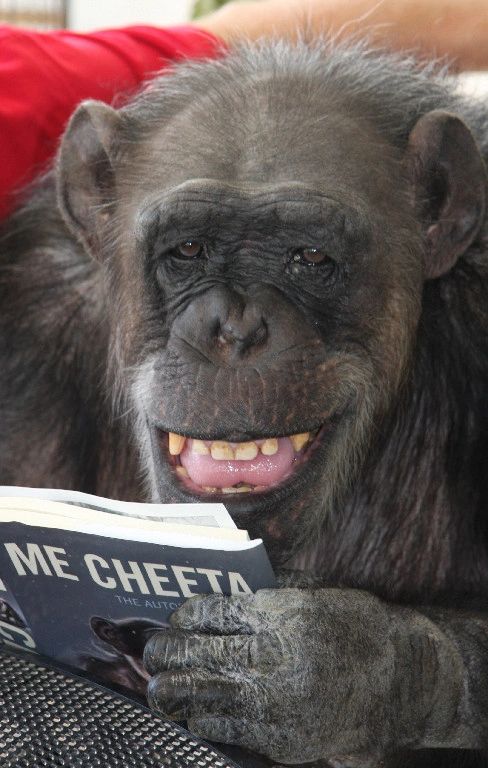 Cheeta
represents all the chimps who have appeared as "Cheeta" in numerous Hollywood Tarzan Movies of the 1930s-1960s , as the sidekick of the title character, Tarzan. His role in these films was to provide comic relief, convey messages between Tarzan and his allies, and occasionally lead Tarzan's other animal friends to the ape-man's rescue
. He and Dan are dear friends of world-renowned Dr. Jane Goodall and help with her conservation efforts to save primates around the world.


He is in the Guinness Book of World Records for being the Worid's Oldest Living Primate.
Cheeta is living out his retirement in Palm Springs, CA at the C.H.E.E.T.A Primate Sanctuary -
Creative Habitats and Enrichment for Endangered & Threatened Apes
Despite battling Type 2 Diabetes for the past 12 years, he is in great shape for a primate of his age.
Cheeta's diet consists of lots of fruit, vegetables and monkey chow. He also enjoys an
occasional hamburger or hot dog and loves to go through McDonald's drive-thru.
He was honored with a star on the Walk of Stars in Palm Springs, CA on March 31st, 1995.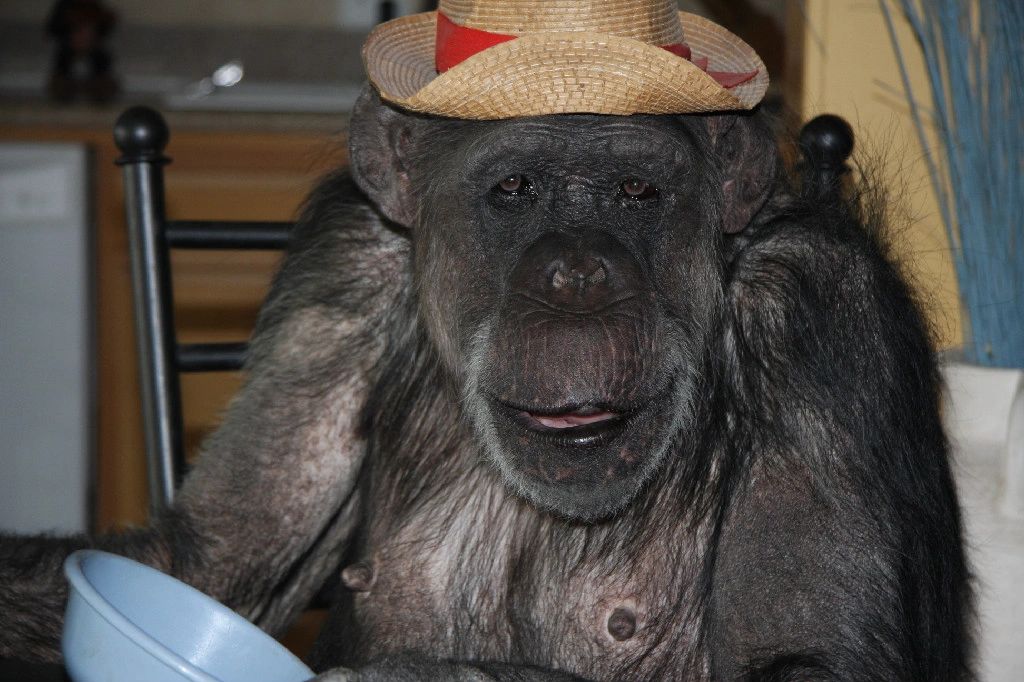 Since 2004 there have been several unsuccessful campaigns to secure a star for Cheeta on the
Hollywood Walk of
Fame, and the effort is being continued by filmaker Matt Devlin to this day.
Please support Cheeta by signing this petition: Go CHEETA!
(Tune: Side by Side)

"Oh, I ain't got a Barrel of Monkeys
Maybe I'm old but still funny
Just hoping for my Name
On a STAR to be claimed
in ol' Hollywood!

To Tarzan I was his sidekick
Monkeying around always so slick
Just hoping for my name
On a STAR to be claimed
In ol' Hollywood
Through many years in movies
And WHAT do I have to show?
It's time to recognize me
And let everybody know
On the screen I brought joy and laughter
Recognition is what I'm after
Just hoping for my name
On a STAR to be claimed
In ol' Hollywood! "
By Sheila Goldman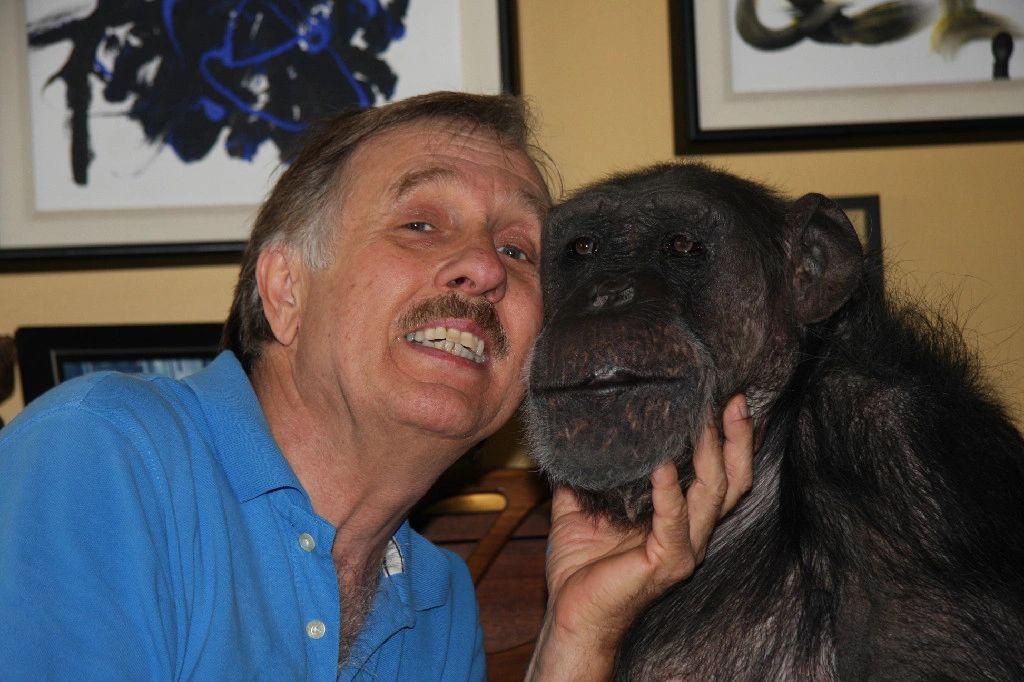 Best Friends
Cheeta's Easter bunny...a gift from the Denney family
Being silly...
It's so fun to have visitors and be the center of attention.
He's a cool cat
Cheeta's name was adopted for The C.H.E.E.T.A. Primary Sanctuary to draw attention to animals used in the entertainment industry which were sometimes abused or even killed during their tenures as show props. C.H.E.E.T.A. exists to provide surviving animals, who often outlive their usefulness in industry, with a good home.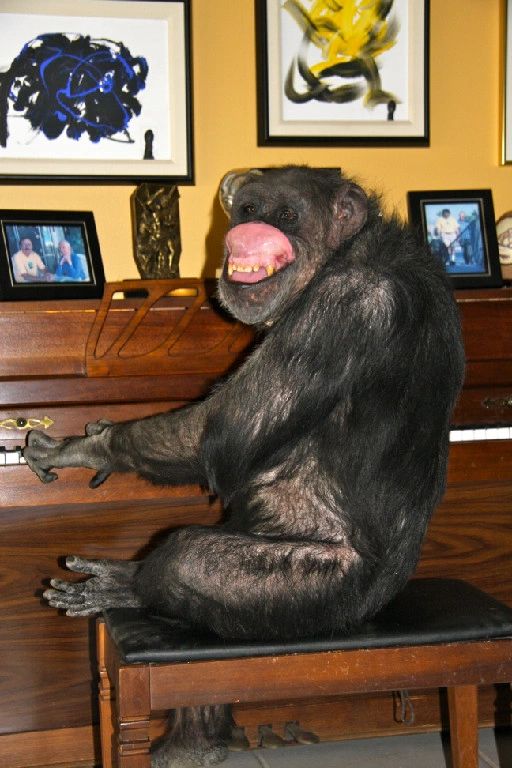 Playing the piano is one of Cheeta's favorite things to do.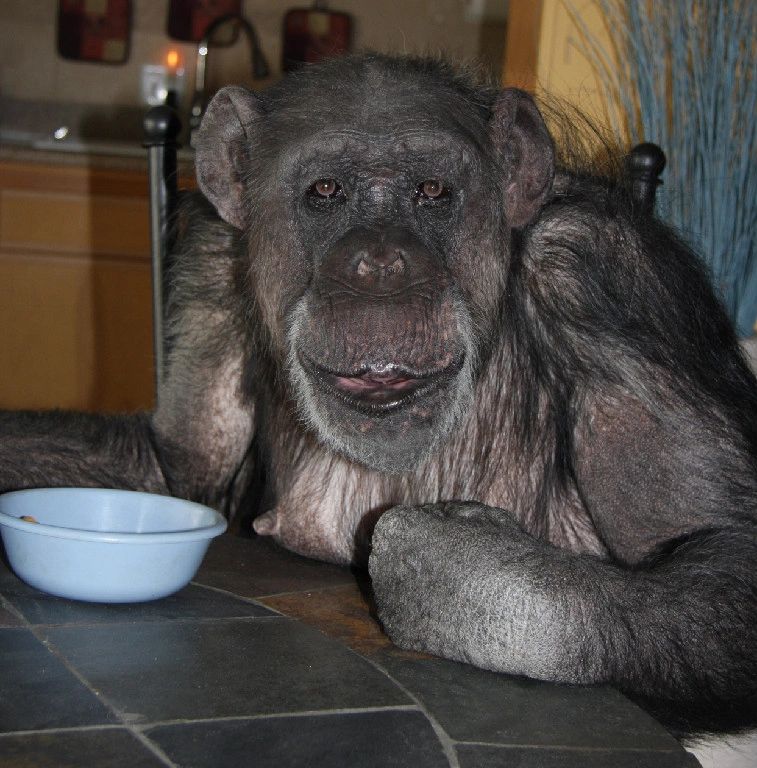 Cheeta is the most famous and beloved chimp of all, bringing joy and affording thousands, all over the world, the chance to relive wonderful childhood memories of watching and playing "Tarzan and Cheeta" . Cheeta is a true Hollywood Icon !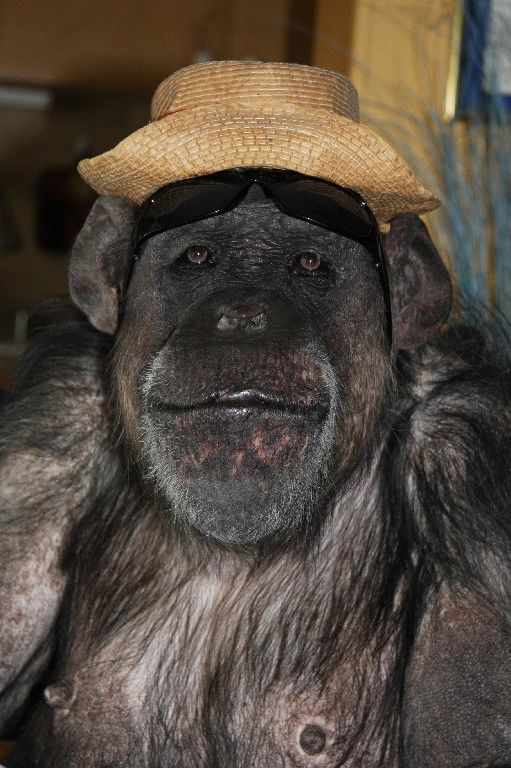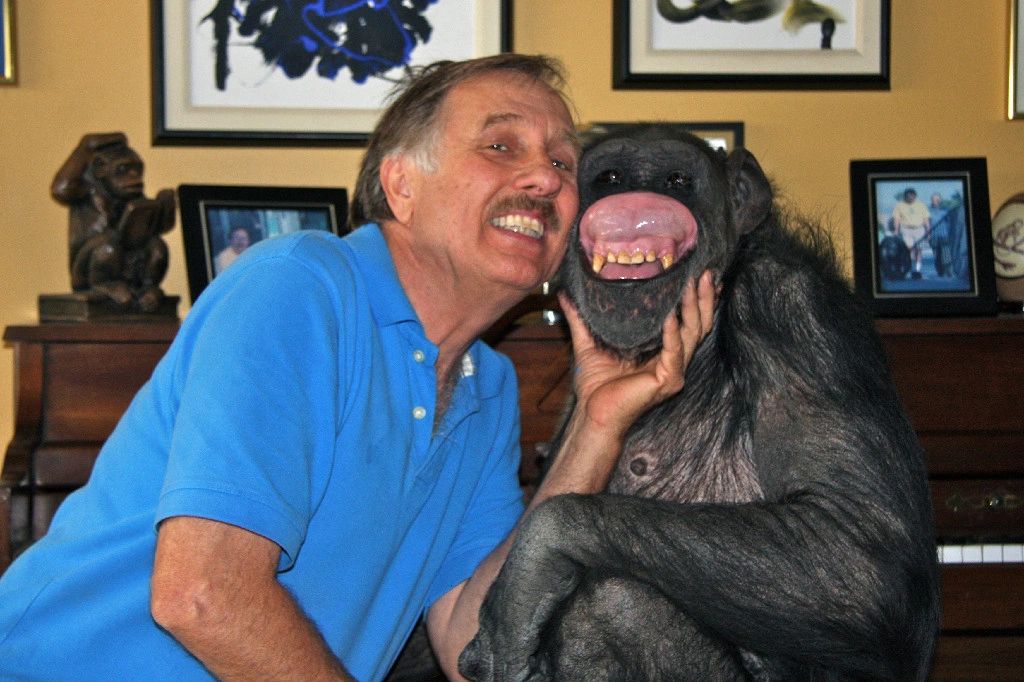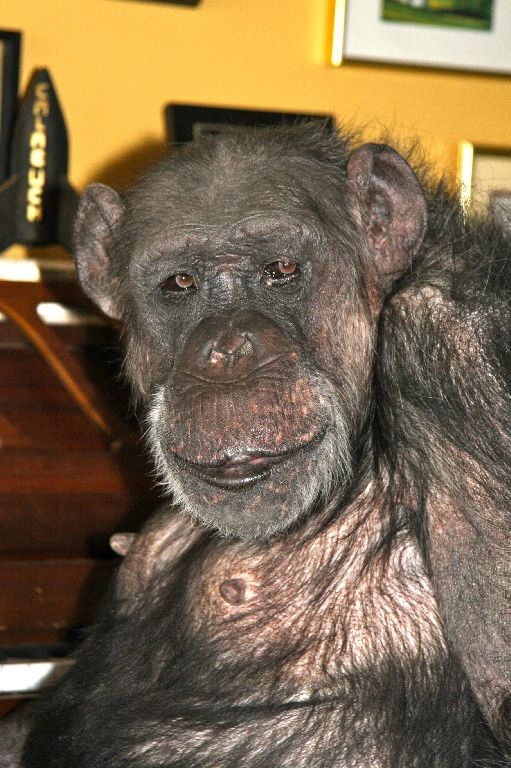 Cheeta is the Chimpanzee Ambassador for the conservation of all primates around the world.
Dan Westfall has been Cheeta's guardian for 19 years.
Dr. Jane Goodall said of Dan's work, "This makes me
feel like the world is still filled with people whose intents are wonderful and good."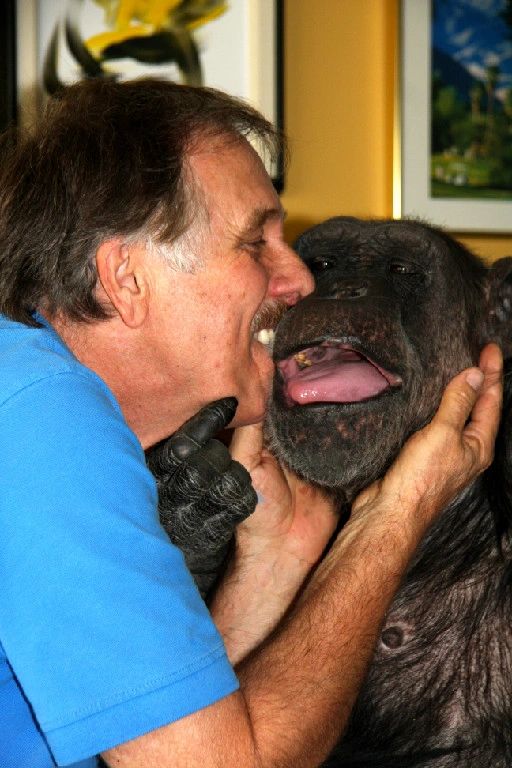 Side by Side
Dr. Jane Goodall recently auctioned two of Cheeta's "Apestracts" for over $10,000 each
to raise money for primate conservation
.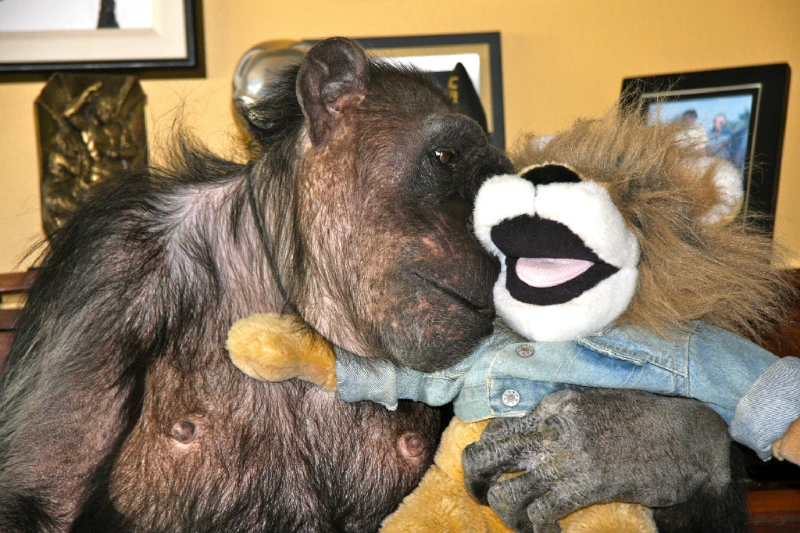 Cheeta likes to paint, play the piano, watch TV, go for rides in the car, take walks, & look at pictures in magazines.
This four foot, one hundred and fifty pound primate is bursting with personality and charm.
Both the International Comedy Festival in Spain and Canada's Space Channel have bestowed
Cheeta
with Lifetime Achievement Awards.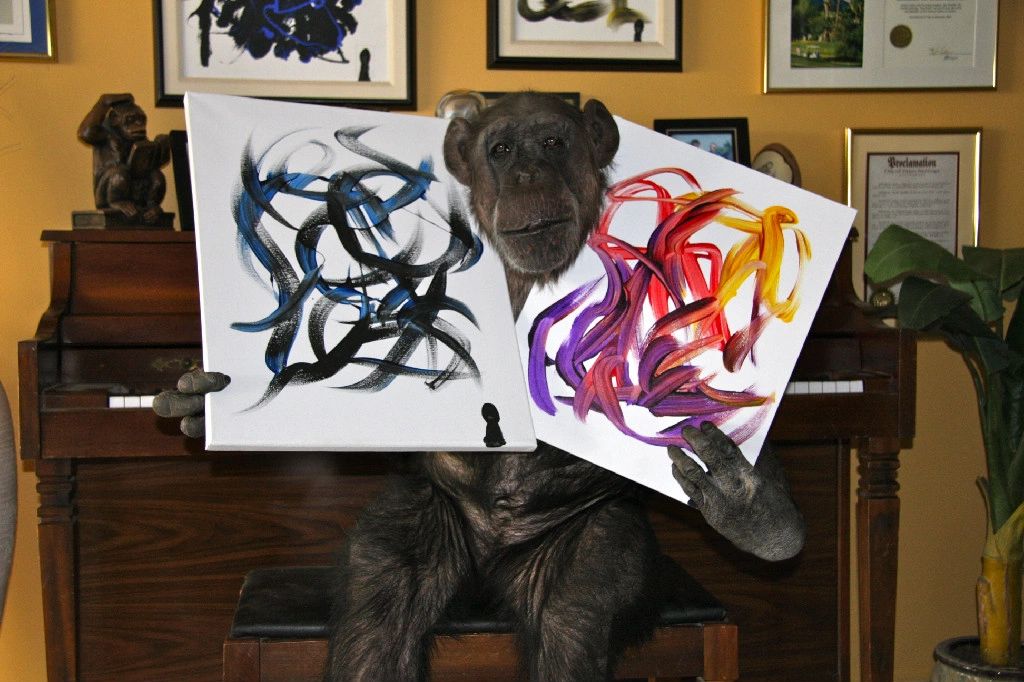 Cheeta spends much of his time painting beautiful "Apestracts" in bright colors. Each one is
autographed with a print from his index finger and come with a certificate of authenticity.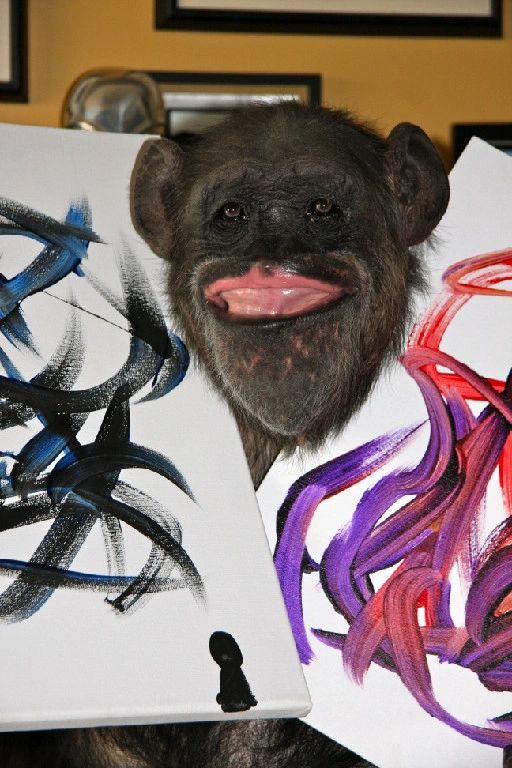 The proud artist - Cheeta's
colorful paintings have been shown in the National
Museum of London, among other locations.
CHEETA'S GRANDSON, JEETER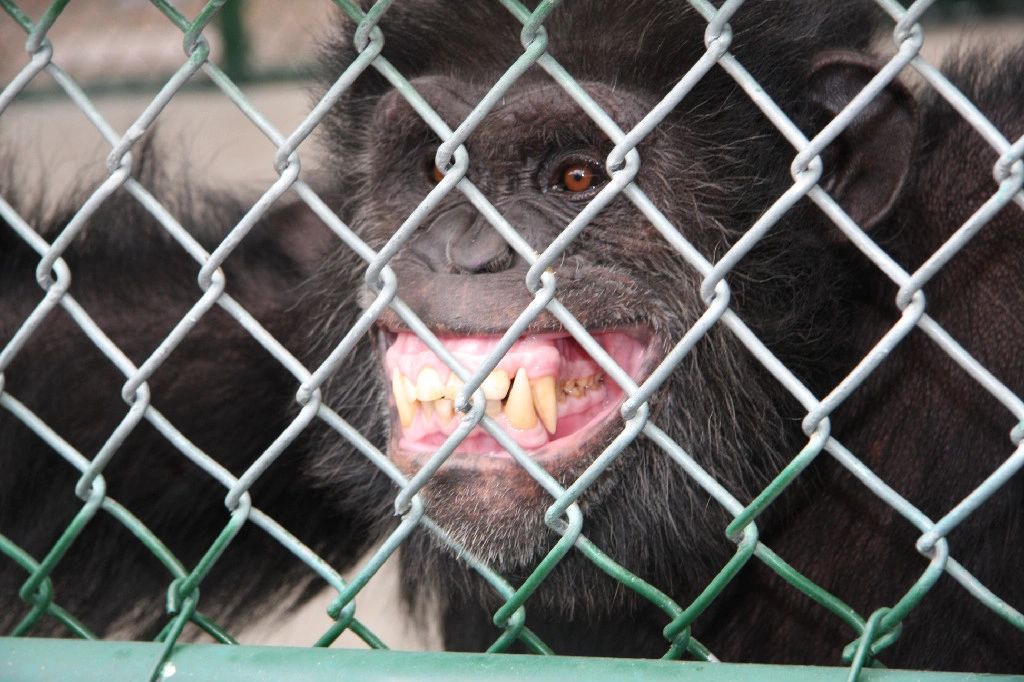 FRIENDS OF The C.H.E.E.T.A. Primate Sanctuary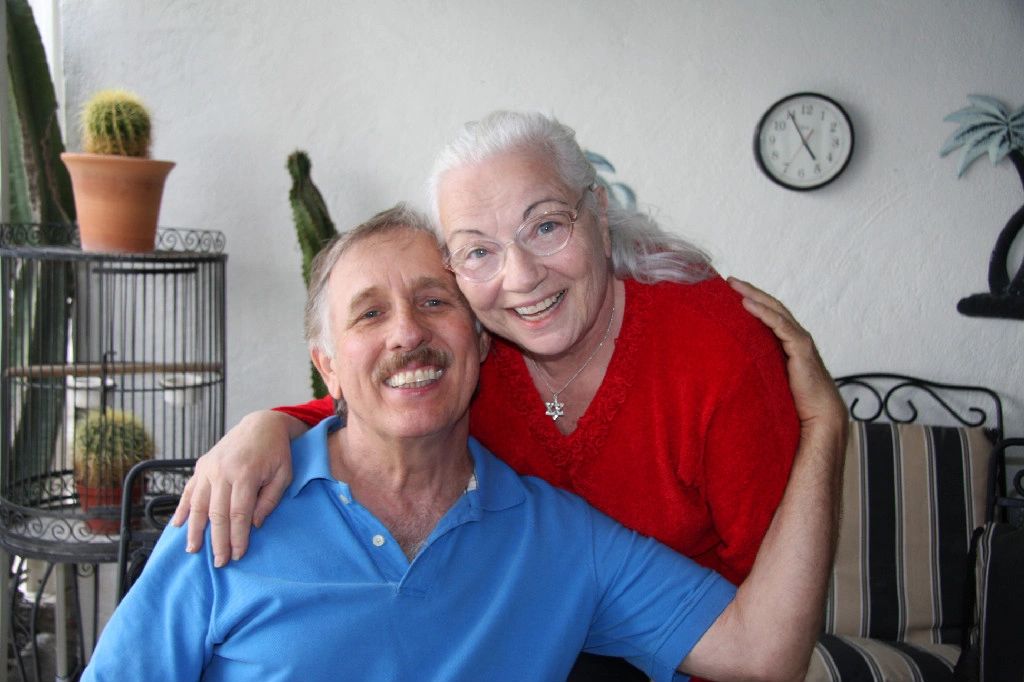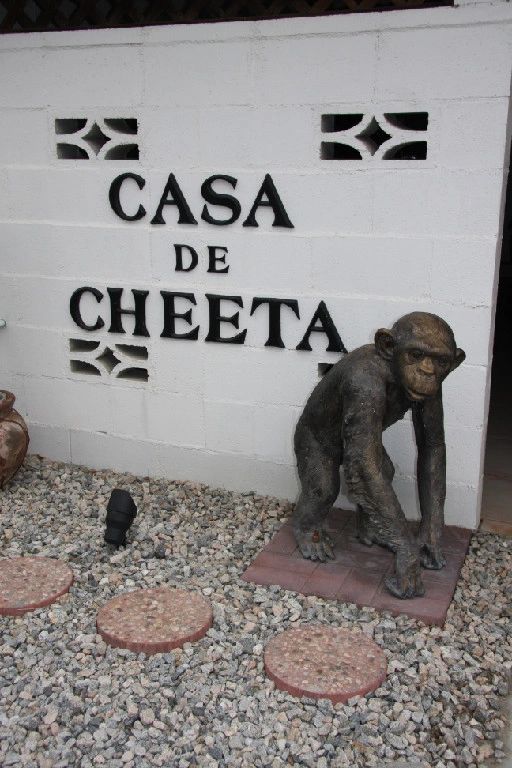 Cheeta's star is located at 110 South Palm Canyon Drive in Palm Springs, CA (in front of Ben and Jerry's)