Claim to Fame: Broadway Singer
DOB: January 31, 1921
Carol Channing was born on January 31, 1921 in Seattle, Washington. She was the only child of George, a prominent newspaper editor and Christian Science lecturer, and Adelaide (Glaser) Channing. She attended grade school in San Francisco and worked as a model in Los Angeles. After graduating, Carol attended the prestigious Bennington College in Vermont where she studied drama and dance before heading to New York to pursue her dream of working in the entertainment industry.
KAY STARR AND CAROL CHANNING

Eventually Carol made her debut in the chorus of the musical No for an Answer (1941), and later that same year she was the understudy for Eve Arden in Let's Face It! Her big break finally came though when she appeared in Lend an Ear (1948), where the wide-eyed beauty displayed her fabulous comic talents and vocal abilities.
HARRY AND CAROL WITH DAN WESTFALL AND KAY STARR


Carol cemented her reputation and fame on Broadway when she landed the role of Lorelei Lee in the musical Gentleman Prefer Blondes (1949). The show ran for 740 performances, and the cast album was a Top Ten. Along with her first breakout role, the 1950's brought with it many other successes for Carol. She appeared in her first feature film Paid in Full, and did numerous television appearances, but live performances were always her first love. In 1954, she took the lead role in the Broadway musical Wonderful Town, and then went on to star in The Vamp as well.
DAN WESTFALL & CAROL CHANNING


The Broadway musical Hello, Dolly! Was Carol Channing's most prestigious achievement. This 1964 musical catapulted the cast album to a gold-selling #1 hit, and won Carol a Tony for her performance. She starred in the show for over a year and a half on Broadway before touring with it all the way into 1967.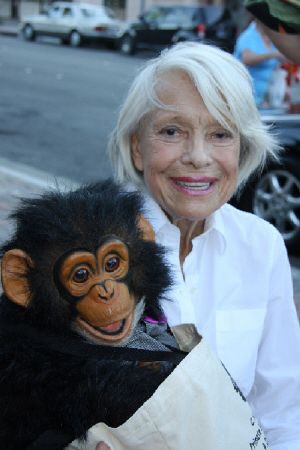 After her stint with Hello, Dolly! Carol was featured in the all-star cast of the film comedy Skidoo, and in the movie Thoroughly Modern Millie for which she earned herself an Academy Award nomination. In the late 1960's and 1970's, Carol Channing toured around the world performing in a series of musicals and plays that included Stout-Hearted Men, Four on a Garden, Cabaret,Gentlemen Who Prefer Blondes, and Festival at Ford's.
WILDLIFE ARTIST CHRIS HOY WITH CAROL


Carol Channing's career has been one of utmost success. In 1995, she returned to Broadway for a 30th anniversary performance of Hello, Dolly!Later, in 2003, the octogenarian released her best selling memoirs, "Just Lucky I Guess" and received the Julie Harris Lifetime Achievement Award from the Actors' Fund of America. Carol also toured the nation (from Broadway to the Hollywood Bowl) and abroad with her new one-woman show entitled "The First Eighty Years are the Hardest."


In 2004, Broadway's "first lady of musical comedy" received an honorary doctoral degree becoming Doctor Carol Channing at the 44th annual California State University, Stanislaus Commencement ceremony in May 2004. This is only the third Honorary Doctoral Degree given in CSU Stanislaus 45-year history. In addition, Carol was presented with the Oscar Hammerstein Award for lifetime achievement in musical theatre from the York Theatre Company, in New York.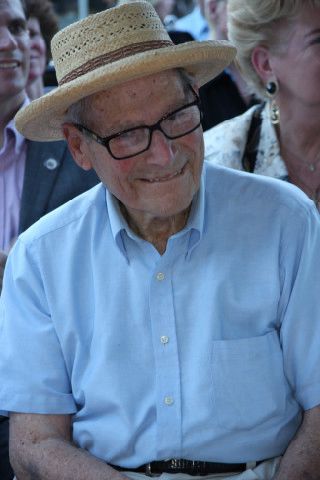 Carol married a total of four times, her current husband being her junior high school sweetheart, businessman Harry Kullijian, after a 70 year separation. She is also the mother of Chan Lowe, a nationally syndicated editorial cartoonist, who has the distinction of being a Pulitzer Prize finalist.
Photo courtesy of Sherri Breyer
On Saturday, October 2nd, 2010 Palm Spring's declared October 2nd, Carol Channing Day as three-time Tony Award and Golden Globe award winner received a star on the Palm Springs Walk of Stars on Saturday in front of the Azul restaurant and Georgies Alibi (369 N. Palm Canyon Drive).
The Star itself, acknowledged Ms Channing's accomplishments on Broadway, in Movies, on Television and as a Humanitarian. "I always knew you'd have people walking all over you," read a message from comedian and friend, Rip Taylor.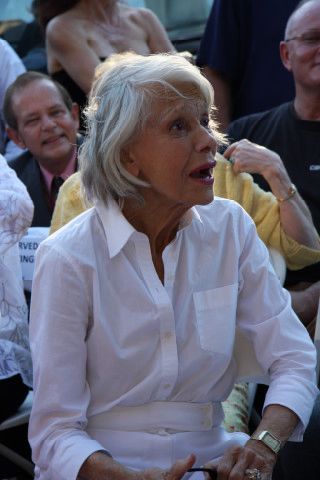 The hour long star installation ceremony attracted over 100 fans, including local dignitaries and fellow stars like Trini Lopez, Frankie Randall, Margaret O'Brien, Harlan Boll and recording artist NIGEL, who crowded a portion of Palm Canyon Drive, reportedly making the event one of the most well-attended star installations of all time, officials declared. "When I heard she was getting this star - and it's long overdue - I certainly had to be here because she's a dear friend and a wonderful, wonderful person," said O'Brien, an actress who may have been best known for her Academy Award-winning role of Tootie in "Meet Me in St. Louis" opposite Judy Garland.
As an ovarian cancer survivor, Channing was presented with a certificate of recognition from LIVESTRONG, which is part of the Lance Armstrong Foundation to support cancer survivors and find a cure. Congratulatory messages sent from Channing's colleagues who were unable to attend the ceremony included Palm Springs resident Barry Manilow who sent a huge bouquet of flowers and a note that read "...As far as I'm concerned, you should have a star on every street in town."
Actress Florence Henderson, who couldn't make it because of her rehearsals on season eleven's "Dancing with the Stars" was rumored to be dedicating a step to Channing on Monday's show. Channing and her husband, Harry Kullijian, took the opportunity to talk about their efforts to bring the arts back into public schools through their foundation (ChanningArts.org). "We aren't trying to save the arts," remarked Carol, "We are trying to help the arts, save our children."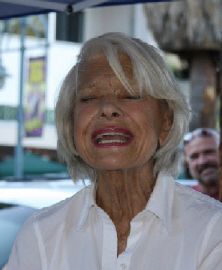 What is on the horizon? Having just released new CD, "For Heaven Sake," which includes many of the songs she came to know and love as a child with spirituals that she learned from her father. Carol is proudly preparing to release a new Patriotic CD tentatively titled "Carol Channing: True to the Red, White & Blue" that features songs such as Over There, Dear Old Glory, God Bless America, America and the Battle Hymn of the Republic, among others. Proceeds from the sales will go towards the foundation's efforts.
FILMOGRAPHY AS ACTOR

Broadway: The Golden Age (Apr-2003) Herself
The Brave Little Toaster Goes to Mars (19-May-1998) [VOICE]
The Line King: The Al Hirschfeld Story (27-Sep-1996) Herself
Thumbelina (30-Mar-1994) [VOICE]
Happily Ever After (28-May-1993) [VOICE]
Alice in Wonderland (9-Dec-1985)
Sgt. Pepper's Lonely Hearts Club Band (24-Jul-1978)
Shinbone Alley (7-Apr-1971) [VOICE]
Skidoo (2-Dec-1968)
Thoroughly Modern Millie (21-Mar-1967)
The First Traveling Saleslady (Aug-1956)
Paid in Full (15-Feb-1950)